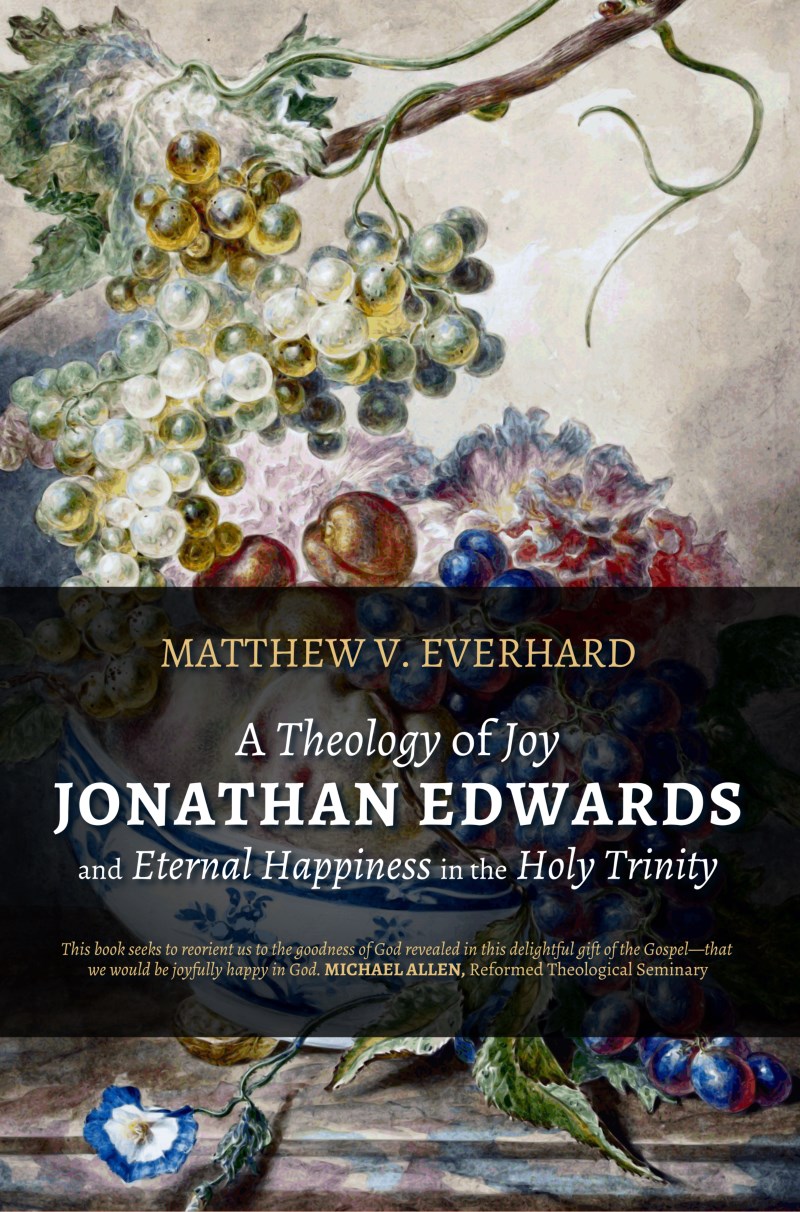 JESociety Press is pleased to announce the publication of
A Theology of Joy: Jonathan Edwards and Eternal Happiness in the Holy Trinity by Dr. Matthew V. Everhard
Description: The quest for joy is as universal as it is elusive. Happiness is that which all human beings desire; yet only few ever discover it in deeply personal and lasting experiences. Among the theologians and philosophers who sought to apprehend a personal experience of joy, the great colonial thinker Jonathan Edwards (1703–1758) stands out as a brilliant voice from the past, speaking boldly on what constitutes the true nature of joy, as well as identifying the sad and deceiving counterfeits to real happiness.
In A Theology of Joy: Jonathan Edwards and Eternal Happiness in the Holy Trinity, Reformed pastor and Edwards scholar Matthew Everhard studies the primary works of the puritan sage, combing through his many sermons, manuscripts, and major treatises to uncover and systematize the primary concepts, images, and motifs related to joy. This book works through such important pieces as Edwards' Religious Affections, The End for Which God Created the World, and Miscellanies; as well as some of Edwards lesser-known writings such as his "Treatise on Grace" and his "Essay on the Trinity." These literature studies identify important strands of Edwards' public teaching and private musings on the concept of happiness.
As the book progresses, Everhard begins to group together Edwards' thoughts on joy and happiness into several major categories; especially as they relate to the doctrine of the Trinity, salvation, the holy life, and the believer's final estate in Heaven. Concluding the study, Everhard makes several practical applications that are especially relevant to ministers of the gospel, as well as to all Christians generally.

PRAISE FOR THIS VOLUME
"So often Christians and pastors are forced to reflect on crises and challenges, which call for our care and attention. But it's equally important to ask what we're meant for and made to experience. Jonathan Edwards wrote much on joy, and Matthew Everhard here helps us glean from his biblical wisdom. With historical care and pastoral concern, this book seeks to reorient us to the goodness of God revealed in this delightful gift of the gospel, namely, that we would be joyfully happy in God."
—Michael Allen, John Dyer Trimble Professor of Systematic Theology and Academic Dean, Reformed Theological Seminary, Orlando
"A Theology of Joy by Dr. Everhard is highly commendable for a number of reasons. It is a clearly written and thoroughly researched book on a heretofore underappreciated theme and doctrine in the writings of Jonathan Edwards. This alone makes it worth reading. It also challenges us, especially those in professional ministry contexts, to reflect on the presence (or absence) of joy in our own lives and make corrections or increase in that regard. What is more, Everhard's work helps us to re-form our notion of Edwards into a more accurate and well-rounded figure. In the end, Everhard has delivered a historically informed, document-rich, biblically-accented, and pastorally-minded book on a largely overlooked theme, joy, as treated by America's greatest theologian."
—Jonathan S. Marko, PhD, Assistant Professor of Philosophical and Systematic Theology, Cornerstone University; Elder, Forest Hills Baptist Church
"Dr. Everhard is an excellent model of the Reformed Minister; a true pastor-theologian. I can think of no peer who I would more gladly learn from, which is why I am thankful for this most recent publication."
—Zach Hopkins, Pastor, Edgington Evangelical Presbyterian Church
JESociety Press, 2018
ISBN-13: 978-0692108505
6 x 9 inches, Paperback, 246 pages
Print version available on Amazon  for $18.99 + s/h
PDF version available on Gumroad for $12