VISUAL EDWARDS LIBRARY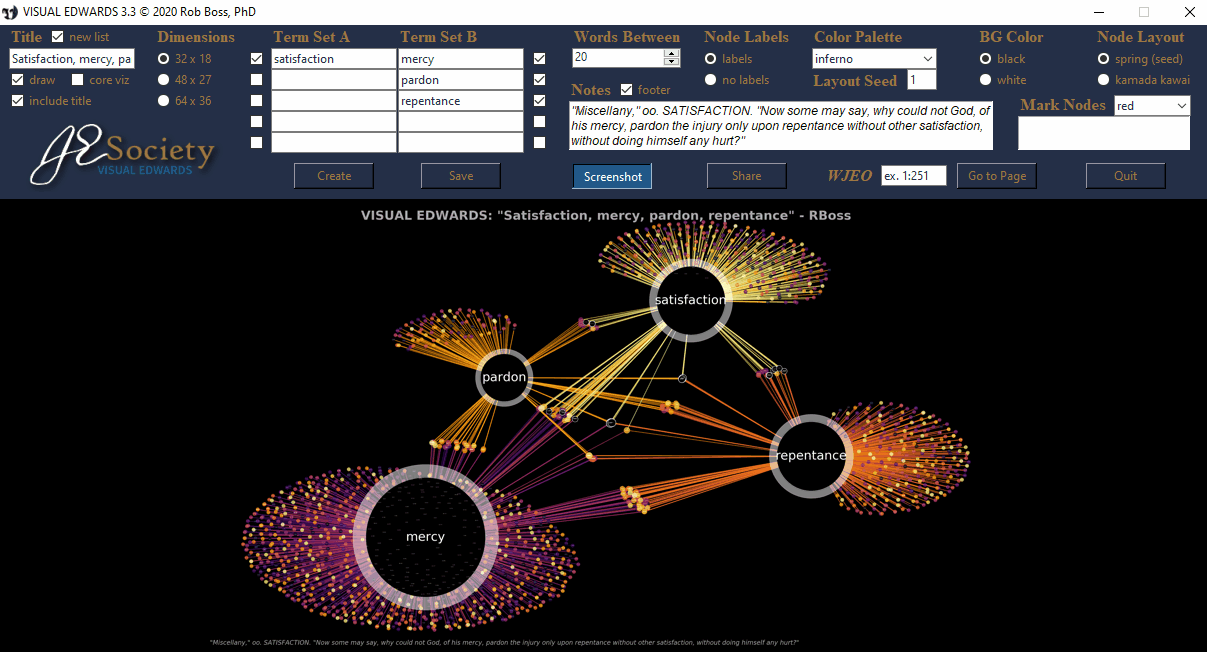 The Visual Edwards Library is an online resource with a growing number of visualizations created with Visual Edwards software. Visualizations are based on the Yale edition of The Works of Jonathan Edwards, volumes 1-26, and the BASE LIST table below generally follows the arrangement in Edwards' Table to the "Miscellanies." Each downloadable PDF file is accompanied by a text transcript of the terms and settings used to generate the visualization. Highlighted nodes identify locations of phrases or terms in close proximity to each other in the 26 volumes of Edwards' works.
Watch a 5 minute explainer video and learn how Visual Edwards can aid your research of Jonathan Edwards.
Watch a 30 second video demo on how to use JEFinder. Download a free copy of JEFinder, a small reference tool for Windows 64. Easily open Visual Edwards Library page references in The Works of Jonathan Edwards Online.
If you would like to see a particular visualization added to the Library, please complete the form below. In your message, include a brief description of what topics you are searching for in WJE 1-26. Include some terms, and possibly a sample quote, for clarity. For topic ideas consult the Miscellanies Table and the Miscellanies Index.
| Visualization and Data (new list) | File Size |
| --- | --- |
| Sense, spiritual - WJE - RBoss.vje | 704 Bytes |
| Sense, spiritual - WJE - RBoss.txt | 6.15 Kb |
| Sense, spiritual - WJE - RBoss.pdf | 1.43 Mb |
| Suffering as Teacher - NPNF2 - RBoss.vje | 730 Bytes |
| Suffering as Teacher - NPNF2 - RBoss.txt | 4.73 Kb |
| Suffering as Teacher - NPNF2 - RBoss.pdf | 1.29 Mb |
| Suffering as Teacher - NPNF1 - RBoss.vje | 730 Bytes |
| Suffering as Teacher - NPNF1 - RBoss.txt | 10.62 Kb |
| Suffering as Teacher - NPNF1 - RBoss.pdf | 1.61 Mb |
| Suffering as Teacher - ANF - RBoss.txt | 11.91 Kb |
| Suffering as Teacher - ANF - RBoss.vje | 728 Bytes |
| Suffering as Teacher - ANF - RBoss.pdf | 1.3 Mb |
| Suffering as Teacher - RBoss.txt | 11.91 Kb |
| Suffering as Teacher - RBoss.vje | 721 Bytes |
| Suffering as Teacher - RBoss.pdf | 1.3 Mb |
| Infused Grace - RBoss.txt | 3.21 Kb |
| Infused Grace - RBoss.vje | 1.92 Kb |
| Infused Grace - RBoss.pdf | 2.48 Mb |
| Sun, Resurrection - RBoss.txt | 5.55 Kb |
| Sun, Resurrection - RBoss.vje | 823 Bytes |
| Sun, Resurrection - RBoss.pdf | 2.03 Mb |
| New, sense, spiritual - RBoss.txt | 5.56 Kb |
| New, sense, spiritual - RBoss.vje | 920 Bytes |
| New, sense, spiritual - RBoss.pdf | 4.41 Mb |
| Eternal, happiness - RBoss.vje | 942 Bytes |
| Eternal, happiness - RBoss.txt | 8.64 Kb |
| Eternal, happiness - RBoss.pdf | 1.67 Mb |
| Birth, Spiritual, Pain - RBoss.txt | 1.72 Kb |
| Birth, Spiritual, Pain - RBoss.vje | 1.21 Kb |
| Birth, Spiritual, Pain - RBoss.pdf | 2.51 Mb |
| Wheels and Machines - RBoss.vje | 1.05 Kb |
| Wheels and Machines - RBoss.txt | 1.92 Kb |
| Wheels and Machines - RBoss.pdf | 1.13 Mb |
| Ultimate, chief - RBoss.txt | 1.27 Kb |
| Ultimate, chief - RBoss.vje | 859 Bytes |
| Ultimate, chief - RBoss.pdf | 1.17 Mb |
| Sense of Sweetness - RBoss.vje | 2.06 Kb |
| Sense of Sweetness - RBoss.txt | 5.38 Kb |
| Sense of Sweetness - RBoss.pdf | 2.7 Mb |
| Happiness, capacity, proportion - RBoss.txt | 3.33 Kb |
| Happiness, capacity, proportion - RBoss.vje | 1.15 Kb |
| Happiness, capacity, proportion - RBoss.pdf | 2.4 Mb |
| Spiders, Flies, and Devils - RBoss.vje | 878 Bytes |
| Spiders, Flies, and Devils - RBoss.txt | 906 Bytes |
| Spiders, Flies, and Devils - RBoss.pdf | 1.54 Mb |
| Blood, heart, life - RBoss.vje | 843 Bytes |
| Blood, heart, life - RBoss.txt | 3.26 Kb |
| Blood, heart, life - RBoss.pdf | 4.1 Mb |
| Types, Christ, church, government - RBoss.txt | 3.58 Kb |
| Types, Christ, church, government - RBoss.pdf | 5.69 Mb |
| Mercy, displeasure, mixed - RBoss.txt | 1.23 Kb |
| Mercy, displeasure, mixed - RBoss.pdf | 1.52 Mb |
| Providence, tree, river, stream - RBoss.txt | 1.34 Kb |
| Providence, tree, river, stream - RBoss.pdf | 1.56 Mb |
| Blood of Christ, justified - RBoss.txt | 6.63 Kb |
| Blood of Christ, justified - RBoss.pdf | 1.29 Mb |
| Miracles, Christ, Moses, prophets, authority - RBoss.txt | 6.68 Kb |
| Miracles, Christ, Moses, prophets, authority - RBoss.pdf | 1.57 Mb |
| Saints, angels, power - RBoss.txt | 6.03 Kb |
| Saints, angels, power - RBoss.pdf | 1.27 Mb |
| Election, predestination, salvation - RBoss.txt | 3.29 Kb |
| Election, predestination, salvation - RBoss.pdf | 2.27 Mb |
| Education, children - RBoss.txt | 2 Kb |
| Education, children - RBoss.pdf | 2.1 Mb |
| Slavery, buy, sell, trade - RBoss.txt | 1011 Bytes |
| Slavery, buy, sell, trade - RBoss.pdf | 541.41 Kb |
| Devil, temptation - RBoss.txt | 7.47 Kb |
| Devil, temptation - RBoss.pdf | 1.12 Mb |
| Religion, business - RBoss.txt | 5.48 Kb |
| Religion, business - RBoss.pdf | 3 Mb |
| Union, Christ, believers - RBoss.txt | 10.74 Kb |
| Union, Christ, believers - RBoss.pdf | 1.59 Mb |
| Death, saint, grieve - RBoss.txt | 4.07 Kb |
| Death, saint, grieve - RBoss.pdf | 3.1 Mb |
| Spiritual, happiness, pleasures, sensual - RBoss.txt | 4.77 Kb |
| Spiritual, happiness, pleasures, sensual - RBoss.pdf | 2.97 Mb |
| Sense, loveliness, greatness, humility - RBoss.txt | 3.85 Kb |
| Sense, loveliness, greatness, humility - RBoss.pdf | 2.66 Mb |
| Angels, demons - RBoss.txt | 6.47 Kb |
| Angels, demons - RBoss.pdf | 2.36 Mb |
| Belief, necessary - RBoss.txt | 2.41 Kb |
| Belief, necessary - RBoss.pdf | 2.28 Mb |
| Incarnation, prophesied - RBoss.txt | 2.6 Kb |
| Incarnation, prophesied - RBoss.pdf | 2.41 Mb |
| Scripture, expressions, intelligible - RBoss.txt | 3.75 Kb |
| Scripture, expressions, intelligible - RBoss.pdf | 857.39 Kb |
| Comfort, Christ, overcoming, devil - RBoss.txt | 11.98 Kb |
| Comfort, Christ, overcoming, devil - RBoss.pdf | 1.63 Mb |
| Comfort, Christ, overcoming, death - RBoss.txt | 20.24 Kb |
| Comfort, Christ, overcoming, death - RBoss.pdf | 2.39 Mb |
| Comfort, Christ, overcoming, world - RBoss.txt | 48.4 Kb |
| Comfort, Christ, overcoming, world - RBoss.pdf | 4.16 Mb |
| Resurrection, body, atoms - (core viz) - RBoss.txt | 8.15 Kb |
| Resurrection, body, atoms - (core viz) - RBoss.pdf | 1.24 Mb |
| Resurrection, body, atoms - RBoss.txt | 8.11 Kb |
| Resurrection, body, atoms - RBoss.pdf | 2.39 Mb |
| Consolation, terror, death, grave - RBoss.txt | 1.86 Kb |
| Consolation, terror, death, grave - RBoss.pdf | 624.83 Kb |
| Resurrection, bodies, believers, union (with Christ) - core viz - RBoss.txt | 4.26 Kb |
| Resurrection, bodies, believers, union (with Christ) - core viz - RBoss.pdf | 1.05 Mb |
| Resurrection, bodies, believers, union (with Christ) - RBoss.txt | 4.25 Kb |
| Resurrection, bodies, believers, union (with Christ) - RBoss.pdf | 2.72 Mb |
| Satisfaction, justice, sin - RBoss.txt | 5.51 Kb |
| Satisfaction, justice, sin - RBoss.pdf | 3.31 Mb |
| Faith, certainty, reason, philosophy - RBoss.txt | 7.61 Kb |
| Faith, certainty, reason, philosophy - RBoss.pdf | 3.9 Mb |
| Streams of Providence - RBoss.txt | 1.2 Kb |
| Streams of Providence - RBoss.pdf | 1.28 Mb |
| Spiders, flies, wicked - RBoss.txt | 1.07 Kb |
| Spiders, flies, wicked - RBoss.pdf | 2.16 Mb |
| Satisfaction, mercy, pardon, repentance - RBoss.txt | 1.84 Kb |
| Satisfaction, mercy, pardon, repentance - RBoss.pdf | 2.07 Mb |
| Sanctification and Perfection - RBoss.txt | 1.46 Kb |
| Sanctification and Perfection - RBoss.pdf | 1.64 Mb |
| Preparatory, work, conversion - RBoss.txt | 7.72 Kb |
| Preparatory, work, conversion - RBoss.pdf | 2.62 Mb |
| Marriage, Christ, Church - RBoss.txt | 4.72 Kb |
| Marriage, Christ, Church - RBoss.pdf | 5.54 Mb |
| Holiness, beautiful, sweet - RBoss.txt | 3.44 Kb |
| Holiness, beautiful, sweet - RBoss.pdf | 2.19 Mb |
| Fall, Garden of Eden - RBoss.txt | 2.19 Kb |
| Fall, Garden of Eden - RBoss.pdf | 2.11 Mb |
| Filename / Link | Size |
| --- | --- |
| Abolishing Ceremonial Law - RBoss.pdf | 2.02 Mb |
| Abolishing Ceremonial Law - RBoss.txt | 1.17 Kb |
| Abraham and Progress of Redemption - RBoss.pdf | 1.96 Mb |
| Abraham and Progress of Redemption - RBoss.txt | 1.84 Kb |
| Abraham's calling - RBoss.pdf | 3.36 Mb |
| Abraham's calling - RBoss.txt | 1.32 Kb |
| Abraham, Father of Believers - RBoss.pdf | 3.03 Mb |
| Abraham, Father of Believers - RBoss.txt | 1.41 Kb |
| Adam as Head and Representative - RBoss.pdf | 2.37 Mb |
| Adam as Head and Representative - RBoss.txt | 1.09 Kb |
| Adam's Innocence - RBoss.pdf | 3.24 Mb |
| Adam's Innocence - RBoss.txt | 799 Bytes |
| Adam, Head of Posterity - RBoss.pdf | 1.97 Mb |
| Adam, Head of Posterity - RBoss.txt | 1.42 Kb |
| Adam, Imputation - RBoss.pdf | 939.47 Kb |
| Adam, Imputation - RBoss.txt | 866 Bytes |
| Adoption and Justification - RBoss.pdf | 1.05 Mb |
| Adoption and Justification - RBoss.txt | 807 Bytes |
| Affliction of Godly - RBoss.pdf | 1.1 Mb |
| Affliction of Godly - RBoss.txt | 727 Bytes |
| America in Progress of Redemption - RBoss.pdf | 1.15 Mb |
| America in Progress of Redemption - RBoss.txt | 755 Bytes |
| Angel Worship - RBoss.pdf | 2.08 Mb |
| Angel Worship - RBoss.txt | 892 Bytes |
| Angels, Elect and Dependent - RBoss.pdf | 2.1 Mb |
| Angels, Elect and Dependent - RBoss.txt | 1.28 Kb |
| Angels, Mystery of Redemption - RBoss.pdf | 1.91 Mb |
| Angels, Mystery of Redemption - RBoss.txt | 898 Bytes |
| Angels, when Created - RBoss.pdf | 1.9 Mb |
| Angels, when Created - RBoss.txt | 1.2 Kb |
| Anointed, Jesus - RBoss.pdf | 1.86 Mb |
| Anointed, Jesus - RBoss.txt | 716 Bytes |
| Antichrist - RBoss.pdf | 2.85 Mb |
| Antichrist - RBoss.txt | 1.45 Kb |
| Apostles: No Enthusiasts; No Impostors - RBoss.pdf | 1.89 Mb |
| Apostles: No Enthusiasts; No Impostors - RBoss.txt | 756 Bytes |
| Arbitrary Divine Operation - RBoss.pdf | 2.77 Mb |
| Arbitrary Divine Operation - RBoss.txt | 1.17 Kb |
| Ascension of Christ - RBoss.pdf | 4.91 Mb |
| Ascension of Christ - RBoss.txt | 1.97 Kb |
| Ascension, Glory of Heaven Increased - RBoss.pdf | 4.2 Mb |
| Ascension, Glory of Heaven Increased - RBoss.txt | 2.93 Kb |
| Assurance, Perseverance - RBoss.pdf | 888.73 Kb |
| Assurance, Perseverance - RBoss.txt | 767 Bytes |
| Authority of Councils and Magistrates - RBoss.pdf | 1 Mb |
| Authority of Councils and Magistrates - RBoss.txt | 720 Bytes |
| Baptism, sprinkling, infants - RBoss.pdf | 854.9 Kb |
| Baptism, sprinkling, infants - RBoss.txt | 1.08 Kb |
| Beatifical vision, colors of light - RBoss.pdf | 2.21 Mb |
| Beatifical vision, colors of light - RBoss.txt | 1.14 Kb |
| Blood of Christ, justified - RBoss.pdf | 4.99 Mb |
| Blood of Christ, justified - RBoss.txt | 1.48 Kb |
| Calling of Jews - RBoss.pdf | 3.83 Mb |
| Calling of Jews - RBoss.txt | 1.81 Kb |
| Canon, Testaments, Scripture - RBoss.pdf | 2.97 Mb |
| Canon, Testaments, Scripture - RBoss.txt | 1.43 Kb |
| Ceremonial law abrogated - RBoss.pdf | 1.93 Mb |
| Ceremonial law abrogated - RBoss.txt | 1006 Bytes |
| Christ's agony - RBoss.pdf | 4.97 Mb |
| Christ's agony - RBoss.txt | 838 Bytes |
| Christ, prophecy, prophesy - RBoss.pdf | 5.19 Mb |
| Christ, prophecy, prophesy - RBoss.txt | 1.98 Kb |
| Christian religion and reason - RBoss.pdf | 4.43 Mb |
| Christian religion and reason - RBoss.txt | 1.72 Kb |
| Christianity, facts, truth - RBoss.pdf | 3.59 Mb |
| Christianity, facts, truth - RBoss.txt | 1.41 Kb |
| Church discipline and order - RBoss.pdf | 3.85 Mb |
| Church discipline and order - RBoss.txt | 2 Kb |
| Church's perpetuity - RBoss.pdf | 2.79 Mb |
| Church's perpetuity - RBoss.txt | 989 Bytes |
| Church, visible Christian admission to - RBoss.pdf | 3.53 Mb |
| Church, visible Christian admission to - RBoss.txt | 4.34 Kb |
| Civil authority, magistrates, power, religion - RBoss.pdf | 3.61 Mb |
| Civil authority, magistrates, power, religion - RBoss.txt | 1.16 Kb |
| Colors of light, graces of Spirit - RBoss.pdf | 3.91 Mb |
| Colors of light, graces of Spirit - RBoss.txt | 2.32 Kb |
| Common illumination - RBoss.pdf | 1.29 Mb |
| Common illumination - RBoss.txt | 926 Bytes |
| Condition of acceptance with God - RBoss.pdf | 2.06 Mb |
| Condition of acceptance with God - RBoss.txt | 974 Bytes |
| Condition of covenant of grace - RBoss.pdf | 3.15 Mb |
| Condition of covenant of grace - RBoss.txt | 2.09 Kb |
| Condition of salvation and blessings - RBoss.pdf | 2.57 Mb |
| Condition of salvation and blessings - RBoss.txt | 1.56 Kb |
| Confirmation of angels - RBoss.pdf | 1.77 Mb |
| Confirmation of angels - RBoss.txt | 1.23 Kb |
| Conflagration, purifying fire - RBoss.pdf | 893.32 Kb |
| Conflagration, purifying fire - RBoss.txt | 689 Bytes |
| Conversion of children - RBoss.pdf | 2.58 Mb |
| Conversion of children - RBoss.txt | 1.44 Kb |
| Conversion, continued, repeated - RBoss.pdf | 2.37 Mb |
| Conversion, continued, repeated - RBoss.txt | 1.18 Kb |
| Conversion, method, steps - RBoss.pdf | 1.6 Mb |
| Conversion, method, steps - RBoss.txt | 1001 Bytes |
| Conversion, time - RBoss.pdf | 4.86 Mb |
| Conversion, time - RBoss.txt | 1.82 Kb |
| Conviction, guilt, salvation - RBoss.pdf | 2.06 Mb |
| Conviction, guilt, salvation - RBoss.txt | 939 Bytes |
| Conviction, religious education - RBoss.pdf | 2.36 Mb |
| Conviction, religious education - RBoss.txt | 1.15 Kb |
| Conviction, spiritual truth - RBoss.pdf | 4.33 Mb |
| Conviction, spiritual truth - RBoss.txt | 1.63 Kb |
| Conviction, terror, children - RBoss.pdf | 2.32 Mb |
| Conviction, terror, children - RBoss.txt | 814 Bytes |
| Corruption of nature - RBoss.pdf | 3.99 Mb |
| Corruption of nature - RBoss.txt | 2.69 Kb |
| Covenant, believers, everlasting - RBoss.pdf | 2.79 Mb |
| Covenant, believers, everlasting - RBoss.txt | 2 Kb |
| Covenant, grace, redemption, national - RBoss.pdf | 3.58 Mb |
| Covenant, grace, redemption, national - RBoss.txt | 4.92 Kb |
| Creation, providence, redemption, mosaic - RBoss.pdf | 1.92 Mb |
| Creation, providence, redemption, mosaic - RBoss.txt | 1.78 Kb |
| Deacons, office - RBoss.pdf | 506.69 Kb |
| Deacons, office - RBoss.txt | 559 Bytes |
| Death and Annihilation - RBoss.pdf | 2.61 Mb |
| Death and Annihilation - RBoss.txt | 734 Bytes |
| Decrees, conditional - RBoss.pdf | 899.76 Kb |
| Decrees, conditional - RBoss.txt | 771 Bytes |
| Defects, heathen morality - RBoss.pdf | 982.67 Kb |
| Defects, heathen morality - RBoss.txt | 722 Bytes |
| Degrees of glory - RBoss.pdf | 4.05 Mb |
| Degrees of glory - RBoss.txt | 1.92 Kb |
| Deluge, redemption - RBoss.pdf | 1.35 Mb |
| Deluge, redemption - RBoss.txt | 811 Bytes |
| Destruction of Jerusalem - RBoss.pdf | 2.28 Mb |
| Destruction of Jerusalem - RBoss.txt | 2.51 Kb |
| Devil, Satan, highest creature - RBoss.pdf | 2.25 Mb |
| Devil, Satan, highest creature - RBoss.txt | 1014 Bytes |
| Devils, fall - RBoss.pdf | 1.97 Mb |
| Devils, fall - RBoss.txt | 1.54 Kb |
| Devils, mens, corruption - RBoss.pdf | 4.43 Mb |
| Devils, mens, corruption - RBoss.txt | 1.83 Kb |
| Devils, pleasure - RBoss.pdf | 1.61 Mb |
| Devils, pleasure - RBoss.txt | 724 Bytes |
| Discerning who is converted - RBoss.pdf | 1.33 Mb |
| Discerning who is converted - RBoss.txt | 1.01 Kb |
| Dispensation, legal, evangelical - RBoss.pdf | 1.04 Mb |
| Dispensation, legal, evangelical - RBoss.txt | 1.08 Kb |
| Dispensation, old, new - RBoss.pdf | 3.04 Mb |
| Dispensation, old, new - RBoss.txt | 2.16 Kb |
| Divinity of Christ - RBoss.pdf | 6.25 Mb |
| Divinity of Christ - RBoss.txt | 7.09 Kb |
| Economy of the Trinity - RBoss.pdf | 3.32 Mb |
| Economy of the Trinity - RBoss.txt | 952 Bytes |
| Efficacious grace - RBoss.pdf | 2.15 Mb |
| Efficacious grace - RBoss.txt | 1013 Bytes |
| Elders, ruling - RBoss.pdf | 1.01 Mb |
| Elders, ruling - RBoss.txt | 682 Bytes |
| Elect men, creation - RBoss.pdf | 1.9 Mb |
| Elect men, creation - RBoss.txt | 1.03 Kb |
| Election, Christ - RBoss.pdf | 4.72 Mb |
| Election, Christ - RBoss.txt | 2.76 Kb |
| Elias, glorious times - RBoss.pdf | 2.52 Mb |
| Elias, glorious times - RBoss.txt | 711 Bytes |
| Encouragements for sinners to strive - RBoss.pdf | 1.3 Mb |
| Encouragements for sinners to strive - RBoss.txt | 875 Bytes |
| End of creation, Christ, spouse - RBoss.pdf | 6.46 Mb |
| End of creation, Christ, spouse - RBoss.txt | 7.58 Kb |
| End of world, consummation, nigh - RBoss.pdf | 4.92 Mb |
| End of world, consummation, nigh - RBoss.txt | 1.96 Kb |
| Eternal Death - RBoss.pdf | 3.63 Mb |
| Eternal Death - RBoss.txt | 2.24 Kb |
| Eternal existence of world - RBoss.pdf | 4.98 Mb |
| Eternal existence of world - RBoss.txt | 3.38 Kb |
| Eternity of punishment - RBoss.pdf | 2.7 Mb |
| Eternity of punishment - RBoss.txt | 1.99 Kb |
| Evangelical law - RBoss.pdf | 1.28 Mb |
| Evangelical law - RBoss.txt | 598 Bytes |
| Exaltation of Christ - RBoss.pdf | 4.85 Mb |
| Exaltation of Christ - RBoss.txt | 1.76 Kb |
| Example of Christ - RBoss.pdf | 4.79 Mb |
| Example of Christ - RBoss.txt | 1.37 Kb |
| Excellency of Christ - RBoss.pdf | 5.46 Mb |
| Excellency of Christ - RBoss.txt | 3.94 Kb |
| Excommunication - RBoss.pdf | 2.66 Mb |
| Excommunication - RBoss.txt | 845 Bytes |
| Faith and obedience - RBoss.pdf | 2.01 Mb |
| Faith and obedience - RBoss.txt | 1.57 Kb |
| Faith of miracles - RBoss.pdf | 1.71 Mb |
| Faith of miracles - RBoss.txt | 923 Bytes |
| Faith, justifying - RBoss.pdf | 2.33 Mb |
| Faith, justifying - RBoss.txt | 3.67 Kb |
| Faith, ratiocination - RBoss.pdf | 3.33 Mb |
| Faith, ratiocination - RBoss.txt | 1.85 Kb |
| Faith, saving and common - RBoss.pdf | 2.8 Mb |
| Faith, saving and common - RBoss.txt | 3.25 Kb |
| Fall of angels and man - RBoss.pdf | 5.06 Mb |
| Fall of angels and man - RBoss.txt | 5.77 Kb |
| Fathers - RBoss.pdf | 3.9 Mb |
| Fathers - RBoss.txt | 1.56 Kb |
| Fear of God - RBoss.pdf | 7.28 Mb |
| Fear of God - RBoss.txt | 4.27 Kb |
| Few saved - RBoss.pdf | 2.14 Mb |
| Few saved - RBoss.txt | 966 Bytes |
| Fitness, natural and moral - RBoss.pdf | 2.53 Mb |
| Fitness, natural and moral - RBoss.txt | 1.67 Kb |
| Flesh and spirit - RBoss.pdf | 4.02 Mb |
| Flesh and spirit - RBoss.txt | 2.22 Kb |
| Forgivenes of sin, repentence, revelation - RBoss.pdf | 3.87 Mb |
| Forgivenes of sin, repentence, revelation - RBoss.txt | 3.35 Kb |
| Free grace - RBoss.pdf | 2.72 Mb |
| Free grace - RBoss.txt | 2.6 Kb |
| Free will - RBoss.pdf | 5.67 Mb |
| Free will - RBoss.txt | 2.11 Kb |
| Fullness of time, Christ - RBoss.pdf | 7.16 Mb |
| Fullness of time, Christ - RBoss.txt | 7.5 Kb |
| Fundamental doctrines - RBoss.pdf | 1.51 Mb |
| Fundamental doctrines - RBoss.txt | 742 Bytes |
| Future state, evidence, proved - RBoss.pdf | 1.72 Mb |
| Future state, evidence, proved - RBoss.txt | 883 Bytes |
| Gentiles, calling - RBoss.pdf | 3.35 Mb |
| Gentiles, calling - RBoss.txt | 2.05 Kb |
| Gifts, Spirit, extraordinary, ceased - RBoss.pdf | 3.7 Mb |
| Gifts, Spirit, extraordinary, ceased - RBoss.txt | 3.11 Kb |
| Glorious times of the church - RBoss.pdf | 4.53 Mb |
| Glorious times of the church - RBoss.txt | 4.9 Kb |
| Glory, saints, angels - RBoss.pdf | 3.78 Mb |
| Glory, saints, angels - RBoss.txt | 3.21 Kb |
| God an intelligent voluntary Being - RBoss.pdf | 7.3 Mb |
| God an intelligent voluntary Being - RBoss.txt | 1.57 Kb |
| God's command, first ground of duty - RBoss.pdf | 1.65 Mb |
| God's command, first ground of duty - RBoss.txt | 1 Kb |
| God, delight in creatures - RBoss.pdf | 7.85 Mb |
| God, delight in creatures - RBoss.txt | 7.01 Kb |
| God, existence, nature - RBoss.pdf | 8.8 Mb |
| God, existence, nature - RBoss.txt | 10.63 Kb |
| Good works, conversion - RBoss.pdf | 4.06 Mb |
| Good works, conversion - RBoss.txt | 1.12 Kb |
| Gospel Holiness - RBoss.pdf | 3.88 Mb |
| Gospel Holiness - RBoss.txt | 1.64 Kb |
| Gospel, encouragement, sin - RBoss.pdf | 3.32 Mb |
| Gospel, encouragement, sin - RBoss.txt | 1.75 Kb |
| Gospel, sinners, punishment - RBoss.pdf | 4.01 Mb |
| Gospel, sinners, punishment - RBoss.txt | 2.89 Kb |
| Grace, common, special, supernatural - RBoss.pdf | 3.41 Mb |
| Grace, common, special, supernatural - RBoss.txt | 1.95 Kb |
| Grace, efficacious, irresistible - RBoss.pdf | 4.32 Mb |
| Grace, efficacious, irresistible - RBoss.txt | 2.56 Kb |
| Grace, its habit - RBoss.pdf | 2.2 Mb |
| Grace, its habit - RBoss.txt | 842 Bytes |
| Hades, Paradise - RBoss.pdf | 388.82 Kb |
| Hades, Paradise - RBoss.txt | 550 Bytes |
| Happiness of God - RBoss.pdf | 8.04 Mb |
| Happiness of God - RBoss.txt | 7.75 Kb |
| Happiness of heaven, degree - RBoss.pdf | 3.87 Mb |
| Happiness of heaven, degree - RBoss.txt | 3.35 Kb |
| Happiness of heaven, eternity - RBoss.pdf | 3.71 Mb |
| Happiness of heaven, eternity - RBoss.txt | 3.11 Kb |
| Happiness of heaven, nature - RBoss.pdf | 5.09 Mb |
| Happiness of heaven, nature - RBoss.txt | 3.5 Kb |
| Happiness of heaven, perfect - RBoss.pdf | 3.7 Mb |
| Happiness of heaven, perfect - RBoss.txt | 3.73 Kb |
| Happiness of heaven, progressive, increasing - RBoss.pdf | 3.53 Mb |
| Happiness of heaven, progressive, increasing - RBoss.txt | 2.81 Kb |
| Happiness of heaven, resurrection - RBoss.pdf | 3.42 Mb |
| Happiness of heaven, resurrection - RBoss.txt | 2.87 Kb |
| Happiness of saints and angels in heaven - RBoss.pdf | 4.13 Mb |
| Happiness of saints and angels in heaven - RBoss.txt | 3.47 Kb |
| Head of visible church - RBoss.pdf | 3.33 Mb |
| Head of visible church - RBoss.txt | 2.5 Kb |
| Heathen philosophers, inspiration, vices - RBoss.pdf | 1.34 Mb |
| Heathen philosophers, inspiration, vices - RBoss.txt | 1.04 Kb |
| Heathen, Christ, mission - RBoss.pdf | 5.2 Mb |
| Heathen, Christ, mission - RBoss.txt | 2.57 Kb |
| Heathen, ancient tradition, Jews - RBoss.pdf | 1.87 Mb |
| Heathen, ancient tradition, Jews - RBoss.txt | 2.24 Kb |
| Heathen, their salvation - RBoss.pdf | 2.31 Mb |
| Heathen, their salvation - RBoss.txt | 806 Bytes |
| Heathen, theology and morality - RBoss.pdf | 1.06 Mb |
| Heathen, theology and morality - RBoss.txt | 662 Bytes |
| Heaven, God's special glorious presence - RBoss.pdf | 3.84 Mb |
| Heaven, God's special glorious presence - RBoss.txt | 2.54 Kb |
| Heaven, eternal, abode, church - RBoss.pdf | 4.62 Mb |
| Heaven, eternal, abode, church - RBoss.txt | 4.17 Kb |
| Heaven, perfected, judgment - RBoss.pdf | 3.52 Mb |
| Heaven, perfected, judgment - RBoss.txt | 2.25 Kb |
| Heaven, place altered - RBoss.pdf | 3.63 Mb |
| Heaven, place altered - RBoss.txt | 2.44 Kb |
| Heaven, promise, covenant - RBoss.pdf | 3.14 Mb |
| Heaven, promise, covenant - RBoss.txt | 1.62 Kb |
| Heaven, saints, angels - RBoss.pdf | 3.96 Mb |
| Heaven, saints, angels - RBoss.txt | 5.94 Kb |
| Heaven, saints, angels, glory - RBoss.pdf | 3.96 Mb |
| Heaven, saints, angels, glory - RBoss.txt | 5.94 Kb |
| Heaven, saints, earth, acquainted - RBoss.pdf | 5.18 Mb |
| Heaven, saints, earth, acquainted - RBoss.txt | 11.39 Kb |
| Heaven, situation, place - RBoss.pdf | 3.62 Mb |
| Heaven, situation, place - RBoss.txt | 2.38 Kb |
| Hell, eternal punishment - RBoss.pdf | 2.77 Mb |
| Hell, eternal punishment - RBoss.txt | 1.6 Kb |
| Hell, eternity, justice, punishment - RBoss.pdf | 2.08 Mb |
| Hell, eternity, justice, punishment - RBoss.txt | 1.76 Kb |
| Hell, extreme torment - RBoss.pdf | 1.74 Mb |
| Hell, extreme torment - RBoss.txt | 1.82 Kb |
| History of New Testament - RBoss.pdf | 3.17 Mb |
| History of New Testament - RBoss.txt | 6.65 Kb |
| History of Old Testament - RBoss.pdf | 3.1 Mb |
| History of Old Testament - RBoss.txt | 8.99 Kb |
| Holiness, God, consists - RBoss.pdf | 8.01 Mb |
| Holiness, God, consists - RBoss.txt | 5.88 Kb |
| Holiness, covenant, grace, secured - RBoss.pdf | 3.17 Mb |
| Holiness, covenant, grace, secured - RBoss.txt | 2.2 Kb |
| Holiness, excellency - RBoss.pdf | 2.16 Mb |
| Holiness, excellency - RBoss.txt | 1.39 Kb |
| Holiness, perfect, Christ - RBoss.pdf | 5.6 Mb |
| Holiness, perfect, Christ - RBoss.txt | 3.2 Kb |
| Holy Ghost, divinity - RBoss.pdf | 2.38 Mb |
| Holy Ghost, divinity - RBoss.txt | 681 Bytes |
| Holy seed - RBoss.pdf | 2.47 Mb |
| Holy seed - RBoss.txt | 824 Bytes |
| Hope - RBoss.pdf | 1.13 Mb |
| Hope - RBoss.txt | 716 Bytes |
| Humiliation and mortification - RBoss.pdf | 1007.36 Kb |
| Humiliation and mortification - RBoss.txt | 1.17 Kb |
| Humiliation, Christ - RBoss.pdf | 4.49 Mb |
| Humiliation, Christ - RBoss.txt | 1.37 Kb |
| Humility, true, Christian, nature - RBoss.pdf | 4.93 Mb |
| Humility, true, Christian, nature - RBoss.txt | 1.4 Kb |
| Ideas - RBoss.pdf | 3.88 Mb |
| Ideas - RBoss.txt | 2.14 Kb |
| Idolatry, original - RBoss.pdf | 1.12 Mb |
| Idolatry, original - RBoss.txt | 595 Bytes |
| Immortality, soul - RBoss.pdf | 2.68 Mb |
| Immortality, soul - RBoss.txt | 1.61 Kb |
| Impotence, man - RBoss.pdf | 3.24 Mb |
| Impotence, man - RBoss.txt | 684 Bytes |
| Impotence, moral, sin, excuse - RBoss.pdf | 2.69 Mb |
| Impotence, moral, sin, excuse - RBoss.txt | 743 Bytes |
| Imprecations, Old Testament - RBoss.pdf | 1.15 Mb |
| Imprecations, Old Testament - RBoss.txt | 685 Bytes |
| Inability, man - RBoss.pdf | 3.39 Mb |
| Inability, man - RBoss.txt | 845 Bytes |
| Inability, moral, sin, excuse - RBoss.pdf | 2.81 Mb |
| Inability, moral, sin, excuse - RBoss.txt | 1.22 Kb |
| Incarnation, mystery, necessary - RBoss.pdf | 1.57 Mb |
| Incarnation, mystery, necessary - RBoss.txt | 760 Bytes |
| Indefinite promises - RBoss.pdf | 1.34 Mb |
| Indefinite promises - RBoss.txt | 650 Bytes |
| Infancy, few, converted - RBoss.pdf | 1.18 Mb |
| Infancy, few, converted - RBoss.txt | 772 Bytes |
| Infants, conversion, regeneration - RBoss.pdf | 1.33 Mb |
| Infants, conversion, regeneration - RBoss.txt | 755 Bytes |
| Infants, damnation - RBoss.pdf | 715.27 Kb |
| Infants, damnation - RBoss.txt | 595 Bytes |
| Infants, saved, probation - RBoss.pdf | 989.57 Kb |
| Infants, saved, probation - RBoss.txt | 643 Bytes |
| Infidelity, folly - RBoss.pdf | 1.99 Mb |
| Infidelity, folly - RBoss.txt | 690 Bytes |
| Infinite, evil, sin - RBoss.pdf | 3.5 Mb |
| Infinite, evil, sin - RBoss.txt | 2.16 Kb |
| Infiniteness, God - RBoss.pdf | 7.88 Mb |
| Infiniteness, God - RBoss.txt | 6.76 Kb |
| Infused habits - RBoss.pdf | 505.04 Kb |
| Infused habits - RBoss.txt | 655 Bytes |
| Inspiration, heathen, philosophers - RBoss.pdf | 1.2 Mb |
| Inspiration, heathen, philosophers - RBoss.txt | 878 Bytes |
| Inspiration, miracles, restored - RBoss.pdf | 1.01 Mb |
| Inspiration, miracles, restored - RBoss.txt | 933 Bytes |
| Intercession, Christ - RBoss.pdf | 4.71 Mb |
| Intercession, Christ - RBoss.txt | 1.65 Kb |
| Interpretation, Scripture - RBoss.pdf | 2.3 Mb |
| Interpretation, Scripture - RBoss.txt | 1.28 Kb |
| Invitation, gospel, reprobates - RBoss.pdf | 1.76 Mb |
| Invitation, gospel, reprobates - RBoss.txt | 809 Bytes |
| Irresistible, grace - RBoss.pdf | 2.2 Mb |
| Irresistible, grace - RBoss.txt | 721 Bytes |
| Israel, Christians, called - RBoss.pdf | 4.46 Mb |
| Israel, Christians, called - RBoss.txt | 3.21 Kb |
| Jesus, Messiah, true - RBoss.pdf | 3.44 Mb |
| Jesus, Messiah, true - RBoss.txt | 1.12 Kb |
| Jewish, nation, evidence, revealed, religion - RBoss.pdf | 3.39 Mb |
| Jewish, nation, evidence, revealed, religion - RBoss.txt | 2.49 Kb |
| Jews, ancient, future, punishment - RBoss.pdf | 2.17 Mb |
| Jews, ancient, future, punishment - RBoss.txt | 894 Bytes |
| Jews, calling, time - RBoss.pdf | 5.69 Mb |
| Jews, calling, time - RBoss.txt | 3.65 Kb |
| Job, Scripture, canon - RBoss.pdf | 2.53 Mb |
| Job, Scripture, canon - RBoss.txt | 1.6 Kb |
| Judge, Christ - RBoss.pdf | 5.74 Mb |
| Judge, Christ - RBoss.txt | 3.88 Kb |
| Judging, censuring, unconverted - RBoss.pdf | 1.26 Mb |
| Judging, censuring, unconverted - RBoss.txt | 839 Bytes |
| Judgment, day, doctrine, reasonableness - RBoss.pdf | 4.31 Mb |
| Judgment, day, doctrine, reasonableness - RBoss.txt | 5.59 Kb |
| Judgment, day, events - RBoss.pdf | 3.49 Mb |
| Judgment, day, events - RBoss.txt | 4.79 Kb |
| Judgment, day, nigh, apostles - RBoss.pdf | 4.02 Mb |
| Judgment, day, nigh, apostles - RBoss.txt | 5.46 Kb |
| Justice, God - RBoss.pdf | 8.19 Mb |
| Justice, God - RBoss.txt | 8.23 Kb |
| Justification, Christ's active righteousness - RBoss.pdf | 3.23 Mb |
| Justification, Christ's active righteousness - RBoss.txt | 2.11 Kb |
| Justification, continuance - RBoss.pdf | 1.41 Mb |
| Justification, continuance - RBoss.txt | 779 Bytes |
| Justification, essence, faith - RBoss.pdf | 2 Mb |
| Justification, essence, faith - RBoss.txt | 3.22 Kb |
| Justification, forensic, faith - RBoss.pdf | 1.76 Mb |
| Justification, forensic, faith - RBoss.txt | 2.32 Kb |
| Justification, obedience - RBoss.pdf | 1.37 Mb |
| Justification, obedience - RBoss.txt | 1.4 Kb |
| Justification, pardon - RBoss.pdf | 944.06 Kb |
| Justification, pardon - RBoss.txt | 784 Bytes |
| Justification, perseverance - RBoss.pdf | 978.5 Kb |
| Justification, perseverance - RBoss.txt | 1 Kb |
| Justification, repentance - RBoss.pdf | 1.17 Mb |
| Justification, repentance - RBoss.txt | 968 Bytes |
| Justification, rewards, worthiness - RBoss.pdf | 1.64 Mb |
| Justification, rewards, worthiness - RBoss.txt | 1.08 Kb |
| Justification, righteousness - RBoss.pdf | 1.96 Mb |
| Justification, righteousness - RBoss.txt | 1.94 Kb |
| Knowing, sincerity - RBoss.pdf | 2.91 Mb |
| Knowing, sincerity - RBoss.txt | 1.35 Kb |
| Knowing, time, conversion - RBoss.pdf | 4.86 Mb |
| Knowing, time, conversion - RBoss.txt | 1.42 Kb |
| Languages, enthusiasts, speaking, strange - RBoss.pdf | 1.48 Mb |
| Languages, enthusiasts, speaking, strange - RBoss.txt | 819 Bytes |
| Law, Moses, in force - RBoss.pdf | 2.51 Mb |
| Law, Moses, in force - RBoss.txt | 3.41 Kb |
| Law, ceremonial, abolition - RBoss.pdf | 1.94 Mb |
| Law, ceremonial, abolition - RBoss.txt | 2.66 Kb |
| Law, of nature - RBoss.pdf | 4.2 Mb |
| Law, of nature - RBoss.txt | 3.49 Kb |
| Law, strictness - RBoss.pdf | 1.8 Mb |
| Law, strictness - RBoss.txt | 1.02 Kb |
| Liberty of conscience, law of nature - RBoss.pdf | 4.62 Mb |
| Liberty of conscience, law of nature - RBoss.txt | 2.77 Kb |
| Life, soul, spiritual, eternal - RBoss.pdf | 5.07 Mb |
| Life, soul, spiritual, eternal - RBoss.txt | 4.44 Kb |
| Lord's Day, prophecies, Messiah - RBoss.pdf | 3.72 Mb |
| Lord's Day, prophecies, Messiah - RBoss.txt | 5.62 Kb |
| Lord's Supper, ordinance, sacrament - RBoss.pdf | 1.37 Mb |
| Lord's Supper, ordinance, sacrament - RBoss.txt | 3.74 Kb |
| Love, Christ - RBoss.pdf | 6.75 Mb |
| Love, Christ - RBoss.txt | 11.87 Kb |
| Love, God - RBoss.pdf | 9.64 Mb |
| Love, God - RBoss.txt | 20.23 Kb |
| Love, enemies - RBoss.pdf | 3.6 Mb |
| Love, enemies - RBoss.txt | 1.95 Kb |
| Love, necessary, salvation - RBoss.pdf | 3.82 Mb |
| Love, necessary, salvation - RBoss.txt | 1.66 Kb |
| Means of grace - RBoss.pdf | 3.18 Mb |
| Means of grace - RBoss.txt | 2.71 Kb |
| Mediation, Mediator, Christ, Trinity - RBoss.pdf | 4.93 Mb |
| Mediation, Mediator, Christ, Trinity - RBoss.txt | 2.66 Kb |
| Mercy, truth, righteousness - RBoss.pdf | 2.87 Mb |
| Mercy, truth, righteousness - RBoss.txt | 1.37 Kb |
| Merit, satisfaction, Christ - RBoss.pdf | 4.98 Mb |
| Merit, satisfaction, Christ - RBoss.txt | 2.2 Kb |
| Messiah, time, signs, prophecies - RBoss.pdf | 4.09 Mb |
| Messiah, time, signs, prophecies - RBoss.txt | 2.82 Kb |
| Millennium, Christ, earth - RBoss.pdf | 5.75 Mb |
| Millennium, Christ, earth - RBoss.txt | 4.04 Kb |
| Ministers, called, God - RBoss.pdf | 7.89 Mb |
| Ministers, called, God - RBoss.txt | 2.71 Kb |
| Ministers, sent, Christ - RBoss.pdf | 5.45 Mb |
| Ministers, sent, Christ - RBoss.txt | 3.14 Kb |
| Misery, devils, wicked, souls, judgment, progressive - RBoss.pdf | 3.88 Mb |
| Misery, devils, wicked, souls, judgment, progressive - RBoss.txt | 3.73 Kb |
| Moral, duty - RBoss.pdf | 1.92 Mb |
| Moral, duty - RBoss.txt | 1.38 Kb |
| Moral, evil, ground - RBoss.pdf | 2.27 Mb |
| Moral, evil, ground - RBoss.txt | 786 Bytes |
| Moral, good, truth - RBoss.pdf | 3.91 Mb |
| Moral, good, truth - RBoss.txt | 1.2 Kb |
| Moral, government, mankind - RBoss.pdf | 2.09 Mb |
| Moral, government, mankind - RBoss.txt | 1.41 Kb |
| Moses, divine, mission - RBoss.pdf | 2.62 Mb |
| Moses, divine, mission - RBoss.txt | 765 Bytes |
| Music, prophets - RBoss.pdf | 1.25 Mb |
| Music, prophets - RBoss.txt | 1000 Bytes |
| Mystery - RBoss.pdf | 1.23 Mb |
| Mystery - RBoss.txt | 1001 Bytes |
| Name, God - RBoss.pdf | 7.92 Mb |
| Name, God - RBoss.txt | 6.21 Kb |
| Natural, principles, self, love - RBoss.pdf | 4.55 Mb |
| Natural, principles, self, love - RBoss.txt | 6.99 Kb |
| Natural, self, love - RBoss.pdf | 4.2 Mb |
| Natural, self, love - RBoss.txt | 5.86 Kb |
| Nature, grace - RBoss.pdf | 3.94 Mb |
| Nature, grace - RBoss.txt | 2.24 Kb |
| Necessary, existence - RBoss.pdf | 1.87 Mb |
| Necessary, existence - RBoss.txt | 1.41 Kb |
| New Testament, dispensation - RBoss.pdf | 2.46 Mb |
| New Testament, dispensation - RBoss.txt | 1.5 Kb |
| New, heavens, earth - RBoss.pdf | 4.71 Mb |
| New, heavens, earth - RBoss.txt | 3.46 Kb |
| New, nature - RBoss.pdf | 3.8 Mb |
| New, nature - RBoss.txt | 1.92 Kb |
| Obedience, active, Christ - RBoss.pdf | 5.2 Mb |
| Obedience, active, Christ - RBoss.txt | 3.29 Kb |
| Obedience, justified - RBoss.pdf | 1.54 Mb |
| Obedience, justified - RBoss.txt | 1.46 Kb |
| Obedience, trials, Christ - RBoss.pdf | 5.3 Mb |
| Obedience, trials, Christ - RBoss.txt | 3.63 Kb |
| Old Testament, dispensation - RBoss.pdf | 2.05 Mb |
| Old Testament, dispensation - RBoss.txt | 1.35 Kb |
| Old Testament, prophecies, Messiah - RBoss.pdf | 3.44 Mb |
| Old Testament, prophecies, Messiah - RBoss.txt | 10.25 Kb |
| Old Testament, saints, redeemed - RBoss.pdf | 4.08 Mb |
| Old Testament, saints, redeemed - RBoss.txt | 8.77 Kb |
| One God - RBoss.pdf | 8.76 Mb |
| One God - RBoss.txt | 5.29 Kb |
| Operative, grace - RBoss.pdf | 2.59 Mb |
| Operative, grace - RBoss.txt | 911 Bytes |
| Oracles, heathen, silenced, Christ - RBoss.pdf | 4.96 Mb |
| Oracles, heathen, silenced, Christ - RBoss.txt | 1.74 Kb |
| Original, sin - RBoss.pdf | 2.63 Mb |
| Original, sin - RBoss.txt | 2.13 Kb |
| Original, sin, jews - RBoss.pdf | 3.37 Mb |
| Original, sin, jews - RBoss.txt | 2.25 Kb |
| Own righteousness - RBoss.pdf | 4.21 Mb |
| Own righteousness - RBoss.txt | 3.72 Kb |
| Pentateuch, written, Moses - RBoss.pdf | 1.59 Mb |
| Pentateuch, written, Moses - RBoss.txt | 1.13 Kb |
| Perfection, happiness, holiness - RBoss.pdf | 3.06 Mb |
| Perfection, happiness, holiness - RBoss.txt | 3.12 Kb |
| Perpetuity, church - RBoss.pdf | 2.4 Mb |
| Perpetuity, church - RBoss.txt | 679 Bytes |
| Perseverance, condition, salvation - RBoss.pdf | 1.87 Mb |
| Perseverance, condition, salvation - RBoss.txt | 1015 Bytes |
| Perseverance, holiness - RBoss.pdf | 2.72 Mb |
| Perseverance, holiness - RBoss.txt | 773 Bytes |
| Planets, inhabited - RBoss.pdf | 358.17 Kb |
| Planets, inhabited - RBoss.txt | 602 Bytes |
| Prayer, enemies, Old Testament - RBoss.pdf | 3.71 Mb |
| Prayer, enemies, Old Testament - RBoss.txt | 1.27 Kb |
| Prayer, morning, evening - RBoss.pdf | 2.09 Mb |
| Prayer, morning, evening - RBoss.txt | 1.82 Kb |
| Predestination - RBoss.pdf | 972.2 Kb |
| Predestination - RBoss.txt | 804 Bytes |
| Predominancy, grace - RBoss.pdf | 2.11 Mb |
| Predominancy, grace - RBoss.txt | 643 Bytes |
| Preface, rational, account - RBoss.pdf | 1.99 Mb |
| Preface, rational, account - RBoss.txt | 903 Bytes |
| Preparatory work - RBoss.pdf | 3.02 Mb |
| Preparatory work - RBoss.txt | 855 Bytes |
| Pride - RBoss.pdf | 998.04 Kb |
| Pride - RBoss.txt | 789 Bytes |
| Prince of devils - RBoss.pdf | 1.83 Mb |
| Prince of devils - RBoss.txt | 1.15 Kb |
| Probation, trial, reward - RBoss.pdf | 1.08 Mb |
| Probation, trial, reward - RBoss.txt | 790 Bytes |
| Profession, church, admission - RBoss.pdf | 2.86 Mb |
| Profession, church, admission - RBoss.txt | 2.9 Kb |
| Progress, work, redemption - RBoss.pdf | 2.53 Mb |
| Progress, work, redemption - RBoss.txt | 1.45 Kb |
| Promises, indefinite, sinners, seeking - RBoss.pdf | 1.65 Mb |
| Promises, indefinite, sinners, seeking - RBoss.txt | 868 Bytes |
| Promulgation, law, revelation, mankind - RBoss.pdf | 3.12 Mb |
| Promulgation, law, revelation, mankind - RBoss.txt | 2.3 Kb |
| Propagation, original, sin - RBoss.pdf | 2.97 Mb |
| Propagation, original, sin - RBoss.txt | 3.04 Kb |
| Prophecies, Scripture, obscurity - RBoss.pdf | 2.96 Mb |
| Prophecies, Scripture, obscurity - RBoss.txt | 1.88 Kb |
| Prophecies, conversion, Gentiles - RBoss.pdf | 1.9 Mb |
| Prophecies, conversion, Gentiles - RBoss.txt | 1 Kb |
| Prophecy, Christ, Spirit - RBoss.pdf | 5.84 Mb |
| Prophecy, Christ, Spirit - RBoss.txt | 1.79 Kb |
| Providence and Sovereignty - RBoss.pdf | 1.35 Mb |
| Providence and Sovereignty - RBoss.txt | 786 Bytes |
| Providence, government - RBoss.pdf | 1.33 Mb |
| Providence, government - RBoss.txt | 815 Bytes |
| Punishment, eternal - RBoss.pdf | 2.15 Mb |
| Punishment, eternal - RBoss.txt | 1.4 Kb |
| Reasonableness, doctrines, Christianity - RBoss.pdf | 4.37 Mb |
| Reasonableness, doctrines, Christianity - RBoss.txt | 2.55 Kb |
| Redemption, purchased, work - RBoss.pdf | 3.28 Mb |
| Redemption, purchased, work - RBoss.txt | 5.65 Kb |
| Regeneration, baptism, continued, repeated - RBoss.pdf | 1.26 Mb |
| Regeneration, baptism, continued, repeated - RBoss.txt | 789 Bytes |
| Remains, sin, godly - RBoss.pdf | 2.55 Mb |
| Remains, sin, godly - RBoss.txt | 1 Kb |
| Repentance, faith - RBoss.pdf | 2.04 Mb |
| Repentance, faith - RBoss.txt | 1.92 Kb |
| Reprobation - RBoss.pdf | 882.65 Kb |
| Reprobation - RBoss.txt | 981 Bytes |
| Restraining, grace - RBoss.pdf | 2.16 Mb |
| Restraining, grace - RBoss.txt | 767 Bytes |
| Resurrection, Christ - RBoss.pdf | 5.31 Mb |
| Resurrection, Christ - RBoss.txt | 3.54 Kb |
| Resurrection, first - RBoss.pdf | 3.33 Mb |
| Resurrection, first - RBoss.txt | 1.24 Kb |
| Resurrection, reward - RBoss.pdf | 1.23 Mb |
| Resurrection, reward - RBoss.txt | 805 Bytes |
| Revealed, religion - RBoss.pdf | 2.29 Mb |
| Revealed, religion - RBoss.txt | 1.29 Kb |
| Revelation, dependence - RBoss.pdf | 2.04 Mb |
| Revelation, dependence - RBoss.txt | 863 Bytes |
| Revelation, pardon, necessity - RBoss.pdf | 2.09 Mb |
| Revelation, pardon, necessity - RBoss.txt | 987 Bytes |
| Revelation, philosophers, opinions - RBoss.pdf | 1.86 Mb |
| Revelation, philosophers, opinions - RBoss.txt | 799 Bytes |
| Revelations, immediate - RBoss.pdf | 2.26 Mb |
| Revelations, immediate - RBoss.txt | 1.29 Kb |
| Rewards, happy, happiness - RBoss.pdf | 2.02 Mb |
| Rewards, happy, happiness - RBoss.txt | 1.02 Kb |
| Righteousness, Christ - RBoss.pdf | 6.04 Mb |
| Righteousness, Christ - RBoss.txt | 6.82 Kb |
| Righteousness, blood - RBoss.pdf | 2.13 Mb |
| Righteousness, blood - RBoss.txt | 929 Bytes |
| Ruling, elders - RBoss.pdf | 861.35 Kb |
| Ruling, elders - RBoss.txt | 624 Bytes |
| Sabbath, perpetuity - RBoss.pdf | 631.14 Kb |
| Sabbath, perpetuity - RBoss.txt | 691 Bytes |
| Sacrament, Lord's Supper - RBoss.pdf | 1.29 Mb |
| Sacrament, Lord's Supper - RBoss.txt | 3.37 Kb |
| Sacrifice, Christ - RBoss.pdf | 5.22 Mb |
| Sacrifice, Christ - RBoss.txt | 2.37 Kb |
| Sacrifices. legal - RBoss.pdf | 1.93 Mb |
| Sacrifices. legal - RBoss.txt | 1.8 Kb |
| Saints, heaven, friends - RBoss.pdf | 3.73 Mb |
| Saints, heaven, friends - RBoss.txt | 1.09 Kb |
| Saints, heaven, happiness, love - RBoss.pdf | 5.28 Mb |
| Saints, heaven, happiness, love - RBoss.txt | 6.22 Kb |
| Saints, heaven, know - RBoss.pdf | 4.77 Mb |
| Saints, heaven, know - RBoss.txt | 2.22 Kb |
| Saints, higher, glory, angels - RBoss.pdf | 4.05 Mb |
| Saints, higher, glory, angels - RBoss.txt | 4.35 Kb |
| Sanctification, womb - RBoss.pdf | 812.75 Kb |
| Sanctification, womb - RBoss.txt | 724 Bytes |
| Satan, defeated - RBoss.pdf | 925.32 Kb |
| Satan, defeated - RBoss.txt | 729 Bytes |
| Satan, fall, highest, creatures - RBoss.pdf | 2.82 Mb |
| Satan, fall, highest, creatures - RBoss.txt | 1.26 Kb |
| Satisfaction, merits, Christ - RBoss.pdf | 4.98 Mb |
| Satisfaction, merits, Christ - RBoss.txt | 2.02 Kb |
| Satisfaction, righteousness, fitness, Christ - RBoss.pdf | 5.28 Mb |
| Satisfaction, righteousness, fitness, Christ - RBoss.txt | 2.38 Kb |
| Satisfaction, sin, necessity - RBoss.pdf | 3.13 Mb |
| Satisfaction, sin, necessity - RBoss.txt | 1.63 Kb |
| Savior, particular, person, office - RBoss.pdf | 3.06 Mb |
| Savior, particular, person, office - RBoss.txt | 1.06 Kb |
| Scripture, canon, finished - RBoss.pdf | 2.32 Mb |
| Scripture, canon, finished - RBoss.txt | 1.57 Kb |
| Scripture, heathen, historians - RBoss.pdf | 2.31 Mb |
| Scripture, heathen, historians - RBoss.txt | 859 Bytes |
| Scripture, manner, inspiration - RBoss.pdf | 3.63 Mb |
| Scripture, manner, inspiration - RBoss.txt | 902 Bytes |
| Scriptures, constituted, parts - RBoss.pdf | 3.36 Mb |
| Scriptures, constituted, parts - RBoss.txt | 1.36 Kb |
| Scriptures, interpretation - RBoss.pdf | 2.58 Mb |
| Scriptures, interpretation - RBoss.txt | 1.35 Kb |
| Searching, heart - RBoss.pdf | 2.88 Mb |
| Searching, heart - RBoss.txt | 971 Bytes |
| Secret, revealed, will - RBoss.pdf | 5.22 Mb |
| Secret, revealed, will - RBoss.txt | 1.36 Kb |
| Self, love, sin - RBoss.pdf | 4.21 Mb |
| Self, love, sin - RBoss.txt | 6.64 Kb |
| Self-determining, power - RBoss.pdf | 1.98 Mb |
| Self-determining, power - RBoss.txt | 1.09 Kb |
| Self-righteousness - RBoss.pdf | 1.41 Mb |
| Self-righteousness - RBoss.txt | 871 Bytes |
| Sense, heart - RBoss.pdf | 4.88 Mb |
| Sense, heart - RBoss.txt | 4.15 Kb |
| Separate, souls, saints, acquainted, earth - RBoss.pdf | 3.79 Mb |
| Separate, souls, saints, acquainted, earth - RBoss.txt | 2.15 Kb |
| Separate, souls, saints, progressive, preparatory - RBoss.pdf | 2.9 Mb |
| Separate, souls, saints, progressive, preparatory - RBoss.txt | 1.96 Kb |
| Separate, spirits, state - RBoss.pdf | 2.49 Mb |
| Separate, spirits, state - RBoss.txt | 1.02 Kb |
| Septuagint, Old Testament - RBoss.pdf | 1.87 Mb |
| Septuagint, Old Testament - RBoss.txt | 628 Bytes |
| Signification, names - RBoss.pdf | 2.55 Mb |
| Signification, names - RBoss.txt | 1.54 Kb |
| Signs, godliness - RBoss.pdf | 1.28 Mb |
| Signs, godliness - RBoss.txt | 1004 Bytes |
| Similitudes, misery, hell - RBoss.pdf | 1.47 Mb |
| Similitudes, misery, hell - RBoss.txt | 828 Bytes |
| Sin, infinite, evil - RBoss.pdf | 3.45 Mb |
| Sin, infinite, evil - RBoss.txt | 4.22 Kb |
| Sin, natural, man - RBoss.pdf | 5.83 Mb |
| Sin, natural, man - RBoss.txt | 8.31 Kb |
| Sincere, obedience - RBoss.pdf | 1.53 Mb |
| Sincere, obedience - RBoss.txt | 1.34 Kb |
| Sleep of Death - RBoss.pdf | 2.48 Mb |
| Sleep of Death - RBoss.txt | 908 Bytes |
| Sonship, Christ - RBoss.pdf | 5.72 Mb |
| Sonship, Christ - RBoss.txt | 8.85 Kb |
| Soul, human, Christ - RBoss.pdf | 6.3 Mb |
| Soul, human, Christ - RBoss.txt | 7.3 Kb |
| Soul, immaterial - RBoss.pdf | 3.25 Mb |
| Soul, immaterial - RBoss.txt | 1.21 Kb |
| Sovereignty, God - RBoss.pdf | 7.35 Mb |
| Sovereignty, God - RBoss.txt | 3.26 Kb |
| Spirit's, operation - RBoss.pdf | 3.18 Mb |
| Spirit's, operation - RBoss.txt | 1.62 Kb |
| Spirit's, witness - RBoss.pdf | 3.16 Mb |
| Spirit's, witness - RBoss.txt | 1.25 Kb |
| Spirit, communicated, converts - RBoss.pdf | 3.01 Mb |
| Spirit, communicated, converts - RBoss.txt | 1.69 Kb |
| Spirit, extraordinary, gifts - RBoss.pdf | 3.98 Mb |
| Spirit, extraordinary, gifts - RBoss.txt | 3.7 Kb |
| Spirit, purchased, Christ - RBoss.pdf | 6.73 Mb |
| Spirit, purchased, Christ - RBoss.txt | 10.38 Kb |
| Spiritual, knowledge - RBoss.pdf | 3.85 Mb |
| Spiritual, knowledge - RBoss.txt | 3.64 Kb |
| Spiritual, pride - RBoss.pdf | 2.35 Mb |
| Spiritual, pride - RBoss.txt | 1.4 Kb |
| Strictness, law - RBoss.pdf | 1.97 Mb |
| Strictness, law - RBoss.txt | 1.2 Kb |
| Success, Christianity - RBoss.pdf | 2.48 Mb |
| Success, Christianity - RBoss.txt | 1.46 Kb |
| Sufferings, Christ - RBoss.pdf | 5.41 Mb |
| Sufferings, Christ - RBoss.txt | 5.46 Kb |
| Sufferings, Christ, misery, hell - RBoss.pdf | 5.86 Mb |
| Sufferings, Christ, misery, hell - RBoss.txt | 6.73 Kb |
| Supernatural - RBoss.pdf | 1.66 Mb |
| Supernatural - RBoss.txt | 840 Bytes |
| Supernatural, principles - RBoss.pdf | 3.84 Mb |
| Supernatural, principles - RBoss.txt | 1.23 Kb |
| Supralapsarians, sublapsarians - RBoss.pdf | 649.77 Kb |
| Supralapsarians, sublapsarians - RBoss.txt | 773 Bytes |
| Synods - RBoss.pdf | 1.28 Mb |
| Synods - RBoss.txt | 701 Bytes |
| Talk, experiences - RBoss.pdf | 1.56 Mb |
| Talk, experiences - RBoss.txt | 1.14 Kb |
| Ten commandments, covenants of works and grace - RBoss.pdf | 3.21 Mb |
| Ten commandments, covenants of works and grace - RBoss.txt | 1.1 Kb |
| Ten tribes - RBoss.pdf | 2.6 Mb |
| Ten tribes - RBoss.txt | 2.24 Kb |
| Testaments - RBoss.pdf | 2.37 Mb |
| Testaments - RBoss.txt | 700 Bytes |
| Threatening, Adam, death, Christ - RBoss.pdf | 6.21 Mb |
| Threatening, Adam, death, Christ - RBoss.txt | 9.09 Kb |
| Threatenings, absolute, necessity, execution - RBoss.pdf | 1.35 Mb |
| Threatenings, absolute, necessity, execution - RBoss.txt | 1.39 Kb |
| Time, conversion - RBoss.pdf | 4.25 Mb |
| Time, conversion - RBoss.txt | 1.49 Kb |
| Time, good, frames, rule - RBoss.pdf | 6.07 Mb |
| Time, good, frames, rule - RBoss.txt | 4.35 Kb |
| Tindal, answer, arguing - RBoss.pdf | 4.39 Mb |
| Tindal, answer, arguing - RBoss.txt | 818 Bytes |
| Tradition, heathen, truth, forefathers - RBoss.pdf | 1.89 Mb |
| Tradition, heathen, truth, forefathers - RBoss.txt | 1002 Bytes |
| Traditions of heathen, Christian, duties - RBoss.pdf | 2.71 Mb |
| Traditions of heathen, Christian, duties - RBoss.txt | 1.87 Kb |
| Traditions of heathen, Creator, world - RBoss.pdf | 4.62 Mb |
| Traditions of heathen, Creator, world - RBoss.txt | 2.75 Kb |
| Traditions of heathen, Mediator - RBoss.pdf | 1.42 Mb |
| Traditions of heathen, Mediator - RBoss.txt | 768 Bytes |
| Traditions of heathen, Spirit, love, chaos, order - RBoss.pdf | 5.24 Mb |
| Traditions of heathen, Spirit, love, chaos, order - RBoss.txt | 1.75 Kb |
| Traditions of heathen, Trinity, unity, persons - RBoss.pdf | 2.96 Mb |
| Traditions of heathen, Trinity, unity, persons - RBoss.txt | 1.26 Kb |
| Traditions of heathen, chaos - RBoss.pdf | 2.52 Mb |
| Traditions of heathen, chaos - RBoss.txt | 1.07 Kb |
| Traditions of heathen, conflagration - RBoss.pdf | 1.91 Mb |
| Traditions of heathen, conflagration - RBoss.txt | 889 Bytes |
| Traditions of heathen, corruption, nature - RBoss.pdf | 3.62 Mb |
| Traditions of heathen, corruption, nature - RBoss.txt | 1.17 Kb |
| Traditions of heathen, devotion, virtue - RBoss.pdf | 1.62 Mb |
| Traditions of heathen, devotion, virtue - RBoss.txt | 943 Bytes |
| Traditions of heathen, disinterested, love - RBoss.pdf | 2.72 Mb |
| Traditions of heathen, disinterested, love - RBoss.txt | 801 Bytes |
| Traditions of heathen, eternity, future, happiness - RBoss.pdf | 2.77 Mb |
| Traditions of heathen, eternity, future, happiness - RBoss.txt | 1.06 Kb |
| Traditions of heathen, eternity, future, punishment - RBoss.pdf | 2.43 Mb |
| Traditions of heathen, eternity, future, punishment - RBoss.txt | 1.14 Kb |
| Traditions of heathen, evil, spirits - RBoss.pdf | 2.29 Mb |
| Traditions of heathen, evil, spirits - RBoss.txt | 1.06 Kb |
| Traditions of heathen, expectation, Messiah - RBoss.pdf | 1.87 Mb |
| Traditions of heathen, expectation, Messiah - RBoss.txt | 1.13 Kb |
| Traditions of heathen, fall, angels - RBoss.pdf | 2.38 Mb |
| Traditions of heathen, fall, angels - RBoss.txt | 1.12 Kb |
| Traditions of heathen, fall, man - RBoss.pdf | 4.42 Mb |
| Traditions of heathen, fall, man - RBoss.txt | 2.27 Kb |
| Traditions of heathen, foreboding, natural, conscience - RBoss.pdf | 2.5 Mb |
| Traditions of heathen, foreboding, natural, conscience - RBoss.txt | 1.22 Kb |
| Traditions of heathen, future, judgment - RBoss.pdf | 2.31 Mb |
| Traditions of heathen, future, judgment - RBoss.txt | 939 Bytes |
| Traditions of heathen, future, restoration, mankind - RBoss.pdf | 2.47 Mb |
| Traditions of heathen, future, restoration, mankind - RBoss.txt | 1.02 Kb |
| Traditions of heathen, hell, torments - RBoss.pdf | 1.81 Mb |
| Traditions of heathen, hell, torments - RBoss.txt | 797 Bytes |
| Traditions of heathen, history, new, testament - RBoss.pdf | 3.27 Mb |
| Traditions of heathen, history, new, testament - RBoss.txt | 1.79 Kb |
| Traditions of heathen, history, old, testament - RBoss.pdf | 2.93 Mb |
| Traditions of heathen, history, old, testament - RBoss.txt | 2.11 Kb |
| Traditions of heathen, immortality, soul - RBoss.pdf | 2.44 Mb |
| Traditions of heathen, immortality, soul - RBoss.txt | 1.13 Kb |
| Traditions of heathen, infused, grace - RBoss.pdf | 2.56 Mb |
| Traditions of heathen, infused, grace - RBoss.txt | 913 Bytes |
| Traditions of heathen, love, enemies - RBoss.pdf | 3.77 Mb |
| Traditions of heathen, love, enemies - RBoss.txt | 1.58 Kb |
| Traditions of heathen, man, image - RBoss.pdf | 4.38 Mb |
| Traditions of heathen, man, image - RBoss.txt | 3.82 Kb |
| Traditions of heathen, moral, government, mankind - RBoss.pdf | 2.7 Mb |
| Traditions of heathen, moral, government, mankind - RBoss.txt | 1.24 Kb |
| Traditions of heathen, moral, spiritual, virtue - RBoss.pdf | 3.45 Mb |
| Traditions of heathen, moral, spiritual, virtue - RBoss.txt | 1.47 Kb |
| Traditions of heathen, original, righteousness - RBoss.pdf | 2.78 Mb |
| Traditions of heathen, original, righteousness - RBoss.txt | 1.51 Kb |
| Traditions of heathen, original, sin - RBoss.pdf | 3.24 Mb |
| Traditions of heathen, original, sin - RBoss.txt | 2.35 Kb |
| Traditions of heathen, paradise - RBoss.pdf | 1.55 Mb |
| Traditions of heathen, paradise - RBoss.txt | 780 Bytes |
| Traditions of heathen, providence - RBoss.pdf | 1.77 Mb |
| Traditions of heathen, providence - RBoss.txt | 905 Bytes |
| Traditions of heathen, reasonableness, Christ's, sufferings - RBoss.pdf | 2.78 Mb |
| Traditions of heathen, reasonableness, Christ's, sufferings - RBoss.txt | 1.46 Kb |
| Traditions of heathen, religion, Scripture - RBoss.pdf | 3.68 Mb |
| Traditions of heathen, religion, Scripture - RBoss.txt | 1.66 Kb |
| Traditions of heathen, restoration, divine, redeemer - RBoss.pdf | 3.05 Mb |
| Traditions of heathen, restoration, divine, redeemer - RBoss.txt | 1.44 Kb |
| Traditions of heathen, resurrection - RBoss.pdf | 1.65 Mb |
| Traditions of heathen, resurrection - RBoss.txt | 942 Bytes |
| Traditions of heathen, revealed, religion - RBoss.pdf | 3.64 Mb |
| Traditions of heathen, revealed, religion - RBoss.txt | 1.84 Kb |
| Traditions of heathen, right, notions, heaven - RBoss.pdf | 3.66 Mb |
| Traditions of heathen, right, notions, heaven - RBoss.txt | 1.78 Kb |
| Traditions of heathen, right, notions, religion - RBoss.pdf | 3.41 Mb |
| Traditions of heathen, right, notions, religion - RBoss.txt | 2.28 Kb |
| Traditions of heathen, sabbath - RBoss.pdf | 1.73 Mb |
| Traditions of heathen, sabbath - RBoss.txt | 932 Bytes |
| Traditions of heathen, salvation, cross - RBoss.pdf | 2.32 Mb |
| Traditions of heathen, salvation, cross - RBoss.txt | 1.18 Kb |
| Traditions of heathen, self, murder - RBoss.pdf | 1.6 Mb |
| Traditions of heathen, self, murder - RBoss.txt | 1.48 Kb |
| Traditions of heathen, soul, sensible, death - RBoss.pdf | 3.79 Mb |
| Traditions of heathen, soul, sensible, death - RBoss.txt | 1.45 Kb |
| Traditions of heathen, spiritual, converse - RBoss.pdf | 2.78 Mb |
| Traditions of heathen, spiritual, converse - RBoss.txt | 1.06 Kb |
| Traditions of heathen, spiritual, death - RBoss.pdf | 3.42 Mb |
| Traditions of heathen, spiritual, death - RBoss.txt | 1.23 Kb |
| Traditions of heathen, spiritual, light - RBoss.pdf | 3.46 Mb |
| Traditions of heathen, spiritual, light - RBoss.txt | 1.66 Kb |
| Traditions of heathen, spiritual, nature - RBoss.pdf | 4.18 Mb |
| Traditions of heathen, spiritual, nature - RBoss.txt | 1.22 Kb |
| Traditions of heathen, spiritual, union - RBoss.pdf | 2.75 Mb |
| Traditions of heathen, spiritual, union - RBoss.txt | 1.02 Kb |
| Traditions of heathen, spiritual, worship - RBoss.pdf | 2.94 Mb |
| Traditions of heathen, spiritual, worship - RBoss.txt | 1.7 Kb |
| Traditions of heathen, sufferings, resurrection, ascension, Redeemer - RBoss.pdf | 2.07 Mb |
| Traditions of heathen, sufferings, resurrection, ascension, Redeemer - RBoss.txt | 1.01 Kb |
| Traditions of heathen, supernatural, grace - RBoss.pdf | 2.78 Mb |
| Traditions of heathen, supernatural, grace - RBoss.txt | 976 Bytes |
| Traditions of heathen, universal, dependence - RBoss.pdf | 1.88 Mb |
| Traditions of heathen, universal, dependence - RBoss.txt | 1.03 Kb |
| Traditions of heathen, work, humiliation - RBoss.pdf | 3.1 Mb |
| Traditions of heathen, work, humiliation - RBoss.txt | 1.79 Kb |
| Traditions, Chinese, Deity, Trinity - RBoss.pdf | 873.7 Kb |
| Traditions, Chinese, Deity, Trinity - RBoss.txt | 733 Bytes |
| Traditions, Chinese, paradise, fall, angels, redemption, Messiah - RBoss.pdf | 2.6 Mb |
| Traditions, Chinese, paradise, fall, angels, redemption, Messiah - RBoss.txt | 836 Bytes |
| Tree, knowledge, good, evil - RBoss.pdf | 4.26 Mb |
| Tree, knowledge, good, evil - RBoss.txt | 1.25 Kb |
| Tree, life, garden - RBoss.pdf | 2.8 Mb |
| Tree, life, garden - RBoss.txt | 1.76 Kb |
| Trinity, Old Testament - RBoss.pdf | 2.29 Mb |
| Trinity, Old Testament - RBoss.txt | 781 Bytes |
| Trinity, mystery - RBoss.pdf | 798.44 Kb |
| Trinity, mystery - RBoss.txt | 666 Bytes |
| Trinity, person, work, redemption - RBoss.pdf | 3.76 Mb |
| Trinity, person, work, redemption - RBoss.txt | 2.06 Kb |
| Trinity, tradition, jews - RBoss.pdf | 1.47 Mb |
| Trinity, tradition, jews - RBoss.txt | 800 Bytes |
| True, virtue, nature - RBoss.pdf | 4.58 Mb |
| True, virtue, nature - RBoss.txt | 2.96 Kb |
| Trusting (in God), importance, old, testament - RBoss.pdf | 2.79 Mb |
| Trusting (in God), importance, old, testament - RBoss.txt | 1.32 Kb |
| Trusting, own, righteousness - RBoss.pdf | 4.52 Mb |
| Trusting, own, righteousness - RBoss.txt | 2.35 Kb |
| Types - RBoss.pdf | 2.77 Mb |
| Types - RBoss.txt | 1.59 Kb |
| Unbelief - RBoss.pdf | 3.6 Mb |
| Unbelief - RBoss.txt | 1.15 Kb |
| Understanding, human, divine - RBoss.pdf | 3.27 Mb |
| Understanding, human, divine - RBoss.txt | 2.07 Kb |
| Union, Christ - RBoss.pdf | 5.16 Mb |
| Union, Christ - RBoss.txt | 4.63 Kb |
| Unity, Godhead - RBoss.pdf | 3.93 Mb |
| Unity, Godhead - RBoss.txt | 2.32 Kb |
| Universal, redemption - RBoss.pdf | 2.63 Mb |
| Universal, redemption - RBoss.txt | 1017 Bytes |
| Unpardonable, sin - RBoss.pdf | 4.17 Mb |
| Unpardonable, sin - RBoss.txt | 1.09 Kb |
| Unregenerate, men - RBoss.pdf | 5.27 Mb |
| Unregenerate, men - RBoss.txt | 949 Bytes |
| Urim, Thummim - RBoss.pdf | 1.93 Mb |
| Urim, Thummim - RBoss.txt | 723 Bytes |
| Usury - RBoss.pdf | 785.25 Kb |
| Usury - RBoss.txt | 682 Bytes |
| Vanity, world - RBoss.pdf | 4.46 Mb |
| Vanity, world - RBoss.txt | 2.64 Kb |
| Virtue, true, supreme, end - RBoss.pdf | 4.67 Mb |
| Virtue, true, supreme, end - RBoss.txt | 2.81 Kb |
| Visible, Christians - RBoss.pdf | 4.35 Mb |
| Visible, Christians - RBoss.txt | 4.26 Kb |
| Visible, church, head - RBoss.pdf | 3.78 Mb |
| Visible, church, head - RBoss.txt | 4.04 Kb |
| Vision, beatifical - RBoss.pdf | 2.83 Mb |
| Vision, beatifical - RBoss.txt | 1.22 Kb |
| War, lawfulness - RBoss.pdf | 2.06 Mb |
| War, lawfulness - RBoss.txt | 1.65 Kb |
| Weekly, division, time, heathen - RBoss.pdf | 4.27 Mb |
| Weekly, division, time, heathen - RBoss.txt | 1.49 Kb |
| Wisdom, creation, work, redemption - RBoss.pdf | 3.53 Mb |
| Wisdom, creation, work, redemption - RBoss.txt | 2.45 Kb |
| Witness, Spirit - RBoss.pdf | 3.4 Mb |
| Witness, Spirit - RBoss.txt | 4.69 Kb |
| Works, signs, godliness - RBoss.pdf | 3.57 Mb |
| Works, signs, godliness - RBoss.txt | 2.64 Kb |
| World, eternity, Scripture, end - RBoss.pdf | 7.06 Mb |
| World, eternity, Scripture, end - RBoss.txt | 13.54 Kb |
| Worship, God - RBoss.pdf | 7.85 Mb |
| Worship, God - RBoss.txt | 7.51 Kb |
| Worship, saints, angels - RBoss.pdf | 2.8 Mb |
| Worship, saints, angels - RBoss.txt | 1.21 Kb |
| Wrath, Christ, suffered - RBoss.pdf | 5.36 Mb |
| Wrath, Christ, suffered - RBoss.txt | 2.87 Kb |
| Zion, mountain, temple - RBoss.pdf | 1.7 Mb |
| Zion, mountain, temple - RBoss.txt | 1.55 Kb |