Visual Edwards Software
The idea behind the Visual Edwards project is to visualize the writings and thought of Jonathan Edwards in a creative way which facilitates exploration, study, and presentation. The sophisticated, image-rich theology of Edwards is a perfect match for today's visual and tech-driven culture. Initially an effort to visualize Edwards' natural typology, the project has now extended to his notebooks and the rest of the printed corpus contained within Yale's 26 volumes of The Works of Jonathan Edwards.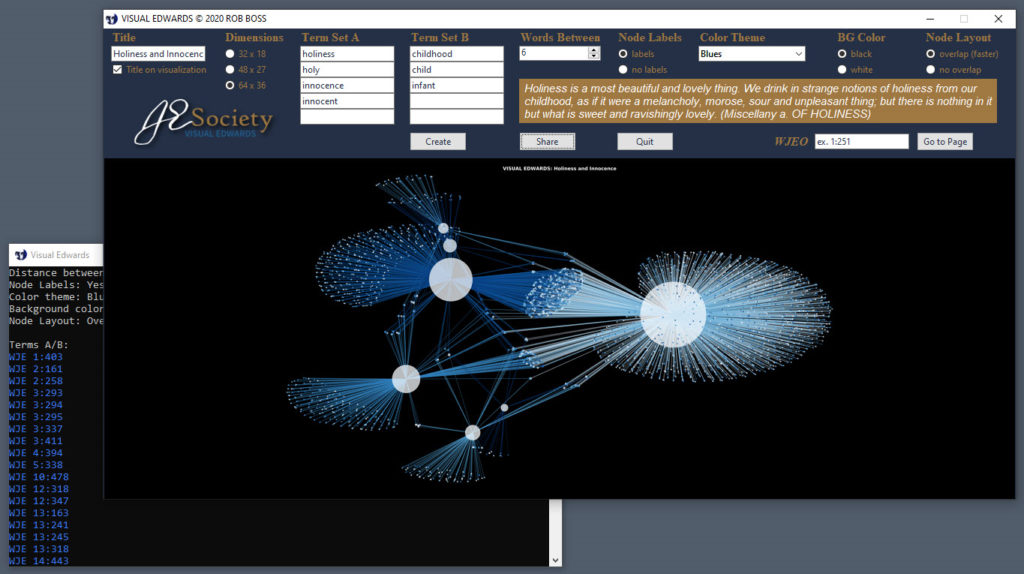 If you are a contributor to The Miscellanies Project and are interested in using Visual Edwards software, send an email to rob@jesociety.org.
Visual Edwards for Win64 (password protected)
JEFinder for iOS (download below)
The most recent addition to the project is JEFinder for iOS. Unlike JEViewer, JEBuilder, and JEFinder which run on Windows 64 machines, JEFinder for iOS is for iPhones and iPads. The iOS version of JEFinder is distributed as code which runs on Pythonista 3, a separate app available on the Apple iOS App Store, see link below. (JESociety is not affiliated with Pythonista 3 in any way. It is a development environment for the Python programming language). The benefit of distributing JEFinder for iOS as Python code is that it can be updated frequently and distributed easily through an email attachment or download.
How to install JEFinder for iOS
After you purchase and install Pythonista 3 on your iPhone, request JEFinder for iOS via the email form below. Next, copy the attachment from your email into the Pythonista app as demonstrated at the beginning of the video below. After JEFinder for iOS code is in Pythonista, push the "play" button at the top of the screen to start running JEFinder. Pythonista has familiar tabs similar to a web browser. When you type in a volume and page number, or type "s" for shared data, a new tab will open. Press the newly opened tab to view pages from WJEO or shared data and visualizations.
Get JEFinder for iOS
JEFinder is a tool that helps researchers navigate Visual Edwards and look up the page references to The Works of Jonathan Edwards Online. Fill out the form below to join the JESociety email list and receive a copy of JEFinder for iOS.